Beauty Inside and Out
Venue: Stars n Bars
Discovery day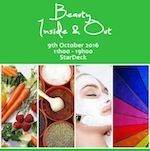 Note: previously titled Mother Nature's Beauty Secrets.
On the first floor StarDeck, an all day event to discover how to be beautiful and healthy using natural methods and products. The day includes conferences and workshops.
For more information visit the event on facebook at:
Beauty inside and out: hosted by Stars n Bars
.