OPMC: Concert de Noel 2016
Venue: Eglise Saint Charles
Spiritual music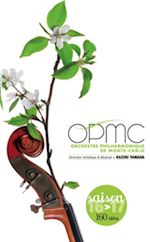 A performance of Saint Saens's Oratorio de Noel, by members of the Orchestre Philharmonique de Monte Carlo conducted by Andrei Feher, and the Choeur Camerata Apollonia directed by Matthieu Peyregne.
free entry
limited seating
For more information and details of soloists visit the orchestra's website at:
OPMC concerts: concerts spirituels
.
One of 2 performances of spiritual music in the Monte Carlo Philharmonic Orchestra's 2016-17 season. For more information phone +377 98 06 28 28 and email atrium[at]opmc.mc.