World's biggest coffee morning 2016
Venue: Stars n Bars
Fund-raising event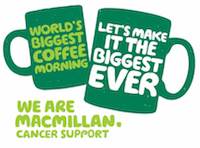 A morning event that is raising money for Macmillan nurses. Participants are requested to bring homemade or shop bought cakes, biscuits and cookies, which can then be "bought" by making a donation.
Organizers are also requesting items that can be used as raffle prizes, for which tickets are now on sale. If you'd like to buy a raffle ticket, email angie.roberts1[at]gmail.com or mikeandsheena[at]hotmail.co.uk.
For more information about the beneficiaries, visit the website at: Macmillan Cancer Support.