F*cancer party
Venue: Address Restaurant
Fundraising cocktail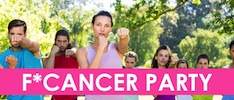 A cocktail dinatoire to raise money for Projet Air lung cancer research.
60 euros per person
includes buffet and wine
During the evening there is a tombola, and live music performed by Anthony and Mariana.
Projet Air carries out research into screening and early detection of lung cancer. For more information visit the website: Projet AIR.
Organized by F*Cancer. For more information and to buy tickets, visit the organizer's website at: fcancer.eu.