Munegu Country Event 2016
Venue: Espace Leo Ferre
Dancing workshops and party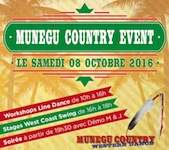 A day of workshops, line dancing with Rob Fowler, west coast swing for couples with Marlene and Julien De Sousa, followed by a party and ball, with demonstration dances. Program:
from 10:00, line dancing workshops
from 16:00, west coast swing workshops
from 19:30, dance party
Organized by Munegu Country Western Dance, an association created in 2012, which promotes country music dancing through events and classes led by qualified teachers and choreographers.
For more information visit the organizer's website at Munegu Country Western Dance.