Halloween @ Stars n Bars
Venue: Stars n Bars
Children's theme party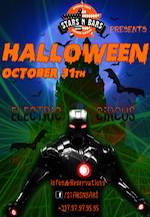 A Halloween party. Details:
dress code: scary, horror
20 euros for children, free for adults
buffet, tickets 3, 4 and 5 euros
18:00, doors open
20:00, entertainment on the outdoor terrace
21:00, restaurant opens for dinner menus
The entertainment includes a bouncy labyrinth, wandering robot, laser show, snake girl, candy floss and photographs.
For more information and reservations phone +377 97 97 95 95 and visit the facebook event at: Halloween Night 2016.