OPMC: Portrait Berlioz 3
Venue: Auditorium Rainier III
A Printemps des Arts 2017 festival concert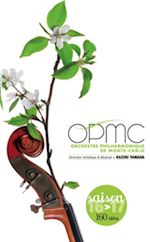 Closing the 2017 Printemps des Arts festival, a performance by Monte Carlo Philharmonic Orchestra conducted by Kazuki Yamada and featuring Liza Kerob on violin. The program includes several works by Berlioz.
The performance is preceded by a talk about overtures by publisher Omer Corlaix and musicologist David Christoffel. Entry is free to concert ticket-holders, 10 euros to members of the public. The talk starts at 19:00 sharp, late arrivals will be refused entry. Reservation required on +377 93 25 54 08.
For more information and full program visit the orchestra's website at: OPMC concerts: grande saison. Tickets from 17 to 50 euros.
The event forms part of the Printemps des Arts 2017 festival, and is one of 17 performances in the Monte Carlo Philharmonic Orchestra's 2016-17 Grande Saison series. For more information phone +377 98 06 28 28 and email atrium[at]opmc.mc.
For a listing of all Printemps des Arts 2017 events, visit our page: Printemps des Arts 2017 and for more information about the event webiste at: Festival Printemps des Arts de Monte Carlo.
Invitation to CREM
CREM members are invited to the concert. Tarif 50 euros, seats in Carre d'Or, RSVP before 13 March to info[at]crem.mc or +377 97 98 01 77.