World Wildlife Day 2017
Venue: Several places in Monaco
Day for wild animals and plants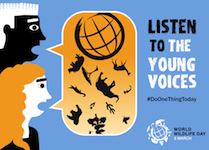 The Journee Mondiale de la Vie Sauvage was established by the United Nations in 2013 to celebrate and raise awareness of the world's wild animals and plants. This year's theme is 'listen to the young voices' (ecoutons la voix des jeunes), reflecting that a quarter of the world's population is aged 10 to 24.
Monaco's Directeur de l'Environnement Valerie Davenet calls on us all to consider the consequences of the choices we make in terms of consumption and leisure, and their impact on the environment.
For more information visit the event website at: World Wildlife Day.