Sounds of Baltic
Venue: Salle Garnier: Opera House
Piano recital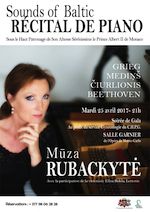 Franco-Italian pianist Muza Rubackyte, accompanied by Latvian violinist Elina Buksa, plays music by Grieg, Medins, Ciurlionis, and Beethoven.
The gala evening is raising funds for the gynaecology department of the Princess Grace Hospital, supporting training and exchange for medical staff in Latvia.
For more information and reservations phone +377 98 06 28 28.