50 Cent
Venue: Princes' Palace
Private concert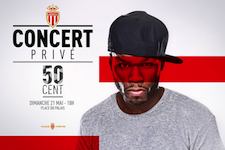 On the square in front of the Palace, American rapper 50 Cent performs in celebration of Monaco FC's successful season. Players and staff of the football club are invited, as are season ticket holders.
free entry on presentation of ticket and ID
tickets available from Stade Louis II
Wed 17 May, 15:00
Thu 18, Fri 19, Sat 20 May, 10:00-18:00
maximum 3 tickets per person
For more information visit the club website at:
AS Monaco FC evenement: 50 Cent
.