Recycle your clothes
Venue: Stars n Bars
Fund raising "vide-dressing"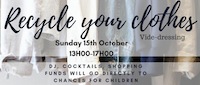 On the upper floor StarDeck, a 2nd-hand clothes sale in support of the Chances for Children charity. Paintings by self-taught Ugandan artist Emma Kavuma are also being sold.
Founded in 2011, Chances for Children funds and runs an orphanage in Kampala, Uganda, for 56 children aged 5-15. These children have been rescued from slums and come from circumstances of extreme poverty. Donations are welcome on the site:
Chances for Children: thanks for your generosity
.
Organized by Stars n Bars Ecohub under the 3R banner: reduce, reuse, recycle. For more information visit the facebook event: Recycle your clothes.