Virtuosi Children Christmas Concert 2017
Venue: Theatre des Varietes
Christmas concert by talented child musicians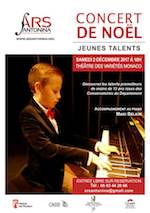 Annual Christmas concert by talented child musicians, all under 13, students of Departmental Conservatories and the Rainier III Academy of Music.
free entry with reservation
phone 06 03 44 20 66 for reservations
Organized by Ars Antonina association. For more information email arsantonina[at]gmail.com visit the organizer's facebook page at: Ars Antonina.