Spring arts: jeunes talents
Venue: Monaco Boat Service
A Printemps des Arts 2018 festival concert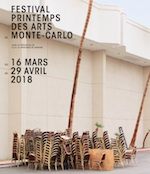 In the Riva Tunnel, performance of varied music by up and coming musicians. Tickets 26 euros. Program:
Portrait Yan Maresz, performed by students of Academie Rainier III and regional conservatories
Bumjun Kim on cello, and Theo Fouchenneret on piano perform:
Bach, Suite for cello no 5 BWV 1011
Debussy, Sonata for cello and piano in D minor
Crumb, Sonata for cello
Shostakovich, Sonata for cello and piano op 40
For a listing of all Printemps des Arts 2018 events, visit our page: Printemps des Arts 2018 and for more information about the event visit the website: Festival Printemps des Arts de Monte Carlo.