Robert Lehrbaumer piano recital
Venue: Theatre Michel Daner
Concert opening Beausoleil Chamber Music Festival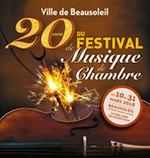 Pianist Robert Lehrbaumer performs works by Mozart, Beethoven, Schumann, and Brahms. Free entry. Program:
Mozart, Sonata no 14, K457
Beethoven, Sonata no 5, op 10/1
Schumann, Carnaval de Venise op 26
Brahms, Sixteen waltzes for piano, op 39
For more information about the Festival de Musique de Chambre, and to reserve a seat, phone +33 04 93 78 90 80 or email culturel[at]villedebeausoleil.fr. For a listing of all Beausoleil Festival de Musique de Chambre concerts, visit out page and for more information about the event visit the organizer's website at: Beausoleil Town.