La course des escaliers 2018
Venue: Marche Municipal Eiffel
Race open to the public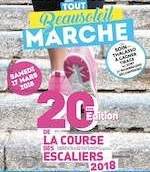 Marking the feast day of Beausoleil's patron saint, Saint Joseph, an annual race, open to the public, registration 10 euros.
20th anniversary of the race.
16:00, start from the bottom of the Escalier Riviera on Boulevard de la Republique
17:45, prize-giving at Place de la Liberation
The race is against the clock, up 458 steps starting in the centre of town, near Gustave Eiffel Market, ending at Riviera Palace, in the upper area of town.
For more information phone +33 4 93 41 72 82, email sports[at]villedebeausoleil.fr, and visit the organizer's website at: Beausoleil: les 20 ans de la course des escaliers.