Top Marques 2018
Venue: Grimaldi Forum
15th edition of luxury car show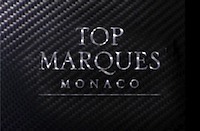 From 19 to 22 April, an exhibition of supercars, watches and superyachts.
Ticket prices:
Thu and Fri, standard day ticket, adults 50 euros, children 25 euros
Sat and Sun, standard day ticket, adults 39 euros, children 19.50 euros
under 6s free of charge
Premium and multi-day passes available, including access to lounge, and 3-course lunch.
Opening hours:
Thu-Sat 10:00-20:00
Sun 10:00-19:30
For more information phone +377 97 70 12 77 and the event website: Top Marques Monaco.