Les journees de la guitare 2018
Venue: Several places in Monaco
Classical guitar concerts and French language classes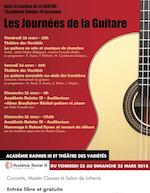 From 23 to 25 March, 3-day event dedicated to the classical guitar, for experts, professors and students, with concerts and master classes taking place in the Theatre des Varietes and Academie Rainier III. Program overview:
Concerts
Open to the public and free of charge.
23 Mar, 20:00 at Theatre des Varietes, guitar solos and chamber music performed by students from conservatories
24 Mar, 20:00, Theatre des Varietes, guitar ensmbles across borders, performed by groups of between 8 and 50 guitarists, from various countries, varied repertoire
25 Mar
11:00 at Auditorium Academeie Rainier III, Alma Brasileira guitar and piano recital of Brazilian music, Duo Debs Fruscella
17:30 at Auditorium Academie Rainier III, tribute to Roland Dyens, closing concert
Other events
Master classes take place on 24 and 25 March in the Academie Rainier III and are also open to the public.
A luthier (stringed instrument makers) salon also takes place in Academie Rainier III.
Organized by the Academie Rainier III, the Journees de la Guitare unites the conservatories of Chalon-sur-Saone and of Melun (France), Ghent (Belgium), Tilburg (Netherlands), Cesena and Arezzo (Italy). It's attended by student and teacher guitarists from schools and conservatories in Monaco, Roquebrune and Cannes.
For more information phone +377 93 15 28 91 and visit the venue website: Academie Rainier III: Agenda.