6th extinction of species: Thierry Bisch
Venue: Club des Residents Etrangers de Monaco (CREM)
Meet the artist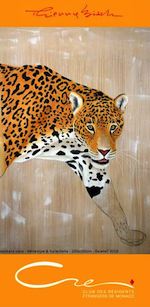 An evening with artist Thierry Bisch, promoting his new campaign "Delete ? 2018".
CREM members free of charge
non-members 15 euros
numbers limited
Thierry Bisch's exhibition "Delete ? Monaco" in summer 2016 marked the 10th anniversary of Fondation Prince Albert II and also aimed to raise awareness among urban populations of the threat of extinction of a large number of species.
For more information and RSVP before 2 Apr, email info[at]crem.mc or phone +377 97 98 01 77.