Thomas Galliano 4tet
Venue: Note Bleue
Live modern jazz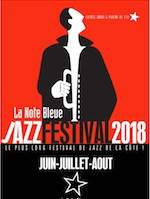 In the jazz lounge, two performances, on 29 and 30 June, by the Thomas Galliano Quartet.
free entry
21:00-midnight
Drummer Thomas Galliano returns to Note Bleue in a new quartet featuring Romain Pilon on guitar, Vincent Bourgeyx on piano, and Mauro Gargano on double bass. The band play modern jazz tracks from Galliano's latest album.
For more information and to reserve a table, phone +377 93 50 05 02, email programmation[at]lanotebleue.mc, and for full program visit the venue website at: La Note Bleue: festival.