Dona Flor
Venue: Note Bleue
Live Brazilian jazz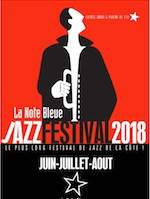 In the jazz lounge, two performances, on 11 Jul and 8 Aug, by Brazilian singer Dona Flor in a show called Le Bresil Dans Tous Ses Etats. The music mixes jazz, samba, African rhythms, pop, and sometimes classical.
free entry
21:00-midnight
Accompanying Dona are Bea Alunni on piano, Marc Giacomoni on guitar, Franck Le Donne on bass, and Cedric Le Donne on drums and percussion.
For more information and to reserve a table, phone +377 93 50 05 02, email programmation[at]lanotebleue.mc, and for full program visit the venue website at: La Note Bleue: festival.