Christmas Ecumenical Kermesse 2018
Venue: Espace Fontvieille
49th annual charity bazaar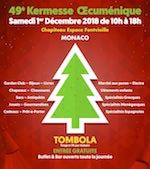 The annual Kermesse Oecumenique raises money for charity, with stalls selling used books and electrical goods, home-made food, and Christmas decorations:
10:00 to 18:00
free entry
A snack bar is open throughout the day for refreshments.
Get involved
Organizers rely on donations and voluntary helpers. If you'd like to get involved, there are lots of ways to help.
donations for various stalls - English books, working electrical goods, DVDs and CDs, good quality clothing etc. Deliver to:
St Paul's Anglican Church from 10:00 to 16:00, on 26, 27 or 28 November
Fontvieille circus tent 29 Nov from 10:00 to 18:00, or 30 Nov from 9:00 to 16:00
helpers required, even if for only a couple of hours:
Thu 29 Nov: 9:00-18:00 setting up
Fri 30 Nov: 9:00-17:00 setting up
Sat 1 Dec: 10:00-18:00 staffing the stalls
If you are able to help, contact Merville on +377 93 15 02 89 or at merville[at]monaco.mc.