Colloque de Scenographie 2018: Still Alive
Venue: Theatre des Varietes
Series of French language lectures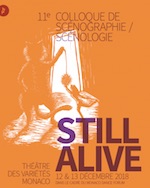 On 12 and 13 December, the 11th Colloque de Scenographie / Scenologie on the theme of museum spaces for performance.
Organized annually, the Colloque is part of the research activities of Pavillon Bosio and includes lectures and debates with guest speakers from the world of contemporary art and design.
For more information phone +377 93 30 18 39, and for a full program, visit the organizer's website at: Pavillon Bosio: 11th Colloque 'Still Alive'.