5 a 7 avec Aznavour
Venue: Theatre des Varietes
French language musical show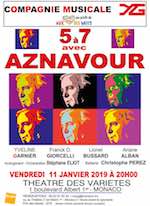 A musical tribute to Charles Aznavour, and raising funds for the Aux Coeurs des Mots association.
tickets 20 euros
available from Fnac Monaco and from the theatre 1 hour before performance starts
Organized by the Compagnie Musicale Y.G.
For more information and reservations phone 06 43 91 93 32, email cmyg[at]monaco.mc, and visit the organizer's facebook page at: Compagnie Musicale Y G.