Carpe Noctem
Venue: Louis Notari Library
Art exhibition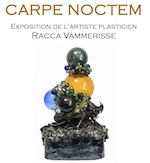 From 25 March to 27 April, an exhibition by former student of ESAP Pavillon Bosio, Racca Vammerisse. Visitors can order copies of "Nuit Obscure de l'Ame", by Laurent de Verneuil, about the artist's work.
free entry
open to all
28 Mar at 18:00, meet the artist and French language art discussion
For more information phone +377 93 15 29 40 and visit the venue website at:
Mediatheque de Monaco - Programmation
.