OPMC: Clarinette et compagnie
Venue: Auditorium Rainier III
Chamber concert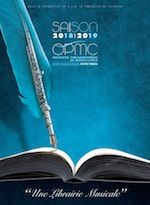 In the Auditorium's Troparium, an informal recital by Jae-Eun Lee and Andriy Ostapchuk on violin, Raphael Chazal on viola, Alexandre Fougeroux, on cello, and Carlos Brito-Ferreira on clarinet, all members of the Monte Carlo Philharmonic Orchestra. The program includes chamber music by Brahms and Schumann.
tickets 13 euros
un-numbered seating
Following the recital members of the audience are invited to meet the musicians over a drink.
A Monte Carlo Philharmonic Orchestra 2018-19 Musical Happy Hour performance.
For a full program visit the orchestra's website at: OPMC: nos concerts saison 18/19. For information, reservations and tickets, phone +377 98 06 28 28 and visit the venue ticket office.