Splendeurs du Baroque Italien
Venue: Saint Paul's Anglican Church
Vocal and instrumental performance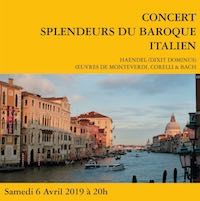 Ristretto vocal and instrumental ensemble, led by Errol Girdlestone, is performing Italian baroque music, including:
Handel, Dixit Dominus
works by Monteverdi, Corelli, and Bach
Tickets 20 euros
available on the door or from Fnac or Carrefour. Proceeds will be donated to the Mothers of Africa charity.
For more information phone 06 43 91 67 43 and visit the performers' website at Ristretto.