Gastronomie et sommellerie: l'excellence francaise
Venue: Maison de France
French language conference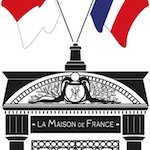 Philippe Joannes and Philippe Faure-Brac talk on the theme of "Gastronomie et sommellerie: l'excellence francaise" (gastronomie and wine appreciation: the French excellence).
entry 10 euros
places limited to 90
One of a series of events in the Cycle Culture et Francophonie 2019. For more information phone +377 93 25 21 64, email maisondefranceamonaco[at]gmail.com and visit the organizer's site at: La Maison de France: evenements.