Concert: les jeudis de l'Academie Jan 2020
Venue: Academie Rainier III
Ancient music discovery concert French language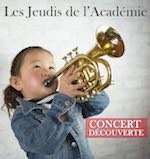 In the academy's Auditorium Marc-Cesar Scotto, a discovery concert for those interested in studying ancient music. Includes meeting and discussion with teachers and students of the academy.
free entry, open to the public
One of a series of discovery concerts. For more information phone +377 93 15 28 91 and visit the academy website at: Academie Rainier III: les jeudis de l'academie.