Rencontre Artistique Monaco Japon 2020
Venue: Auditorium Rainier III
Annual art exhibition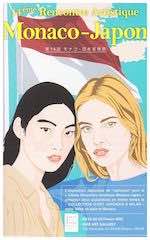 From 21 to 23 February, the 14th Rencontre Artistique Monaco Japon is a collective exhibition of work by Japanese and Monegasque artists:
free entry
Friday
11:00-19:00
17:00, official opening
Saturday, 11:00-19:00
Sunday, 11:00-18:00
Includes work by artist members of Reijinsha, and the Comite National Monegasque of the Association International des Arts Plastiques (AIAP) at UNESCO. During the weekend several there is a tea ceremony, a bonsai demonstration, and a kimono workshop.
The event represents an ongoing cultural exchange between Japan and Monaco that has existed for several years. For more information visit the artists' website at: Comite National Monegasque de l'AIAP.
Organized by the Direction du Tourisme et des Congres de Monaco and the Direction des Affaires Culturelles. For more information phone +377 92 16 61 66.