Circle of Love
Venue: Salle d'Exposition du Quai Antoine Ier
Retrospective exhibition of Kees Verkade's work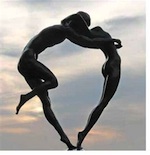 From 29th June to 29th July, Dutch sculptor Kees Verkade exhibits sketches and sculptures spanning his 50 year career. A Monaco resident since 1979, Verkade started as an illustrator, but soon moved into sculpting, primarily the human body.
You can see many examples of Verkade's work around the Principality:
statue of Princess Grace in the Princess Grace Rose Garden
portrait of Prince Rainier III in front of the Surete Publique
Malizia sculpture in front of the Princes' Palace
Prince Louis de Polignac statue in front of the Hotel Hermitage
portrait of Winston Churchill at the Hotel de Paris
Le Premier Pas in the hospital maternity department
Les Sportifs on Stade Louis II concourse
L'Inspiration on Square Gastaud
His sculpture L'Envol is in Terminal 1 of Nice Airport.