Visit two gardens, with light lunch break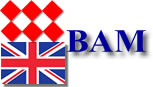 On 15 May the British Association of Monaco (BAM) is planning an outing for members and friends, to two country gardens.
The morning's destination is Le Prieure in Tourettes-sur-Loup, and its enthusiast owner Joanna Millar, who has tended the garden since 1969. Following the guided tour, Ms Millar will guide will chat with guests and offer the opportunity to ask questions over a drink.
The outing then takes a break over a light lunch in a typical Provencal restaurant.
In the afternoon, the group will head to gardener and artist Valerie de Courcel's Villa Fort France near Grasse.
Tickets for the outing cost 45 euros for BAM members, and 55 euros for non-members. Reservations should be made befor 8 May.
For more information email bam[at]monaco.mc and for booking forms visit the organizer's website at: British Association of Monaco: booking page.