New dishes on menu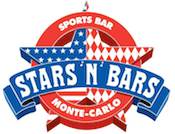 Stars n Bars has a reputation for burgers and T-bones in Monaco, so it's something of a surprise to discover that the American style diner now includes vegan dishes.
Already boasting a number of vegetarian options, the extended menu features houmous, falafel sliders, and courgette spaghetti with pesto sauce, as well as a choice of two desserts and two smoothies.
Several of the new dishes have been created with the help of Clever Kitchen, a service that provides nutritional information to people who want to change their diets, and which also sells "superfood" ingredients.
In addition the family restaurant has updated its sushi options, which now include salad bowls.
With more choice on Stars n Bars's menu, those who are on a special diet need not sacrifice the fun of dining out with family and friends.