Private tour of architectural interest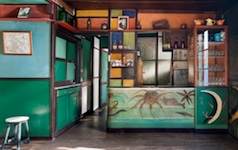 The Club des Residents Etrangers de Monaco is organizing an outing for members and their guests in the afternoon of 2 July.
Participants will be visiting three properties close to Monaco that are of particular interest for their architectural and interior design features.
First, the recently renovated E-1027 modernist villa on Cap Martin, which was designed and built by Irish architect and furniture designer Eileen Gray in the late 1920s.
Not far from E-1027, is Le Cabanon, a holiday home designed and built in 1951 by architect Le Corbusier.
To the east of the Plage du Buse, next door to Le Cabanon is the Etoile de Mer, a small restaurant that provided meals for Le Corbusier and his wife Yvonne when they were on holiday. Owned by the Rebutato family, the land on which it was built was intended to be a camping holiday village, but it was never realised.
The private tour is open to members and their guests:
2 July at 14:00
meet in the car park at Roquebrune Cap Martin railway station
duration of tour 2h30
commentary in English and French
15 euros for CREM members
20 euros for guests accompanied by CREM members
For more information and RSVP before 12 May, email info[at]crem.mc or phone +377 97 98 01 77.