Oscar winning actor in town for movie.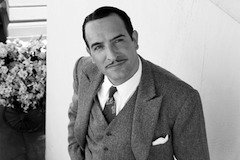 Photo source:
Jean Dujardin on AllAboutMyStar
French actor Jean Dujardin (aka Brice de Nice) was spotted in Monaco yesterday evening. After his BAFTA and Oscar successes for The Artist, Dujardin is in town working on director Eric Rochant's most recent film Mobius. He plays the part of a Russian agent that falls in love with an American trader, played by Cecile de France. Tim Roth stars as de France's boss in the spy thriller.
Filming took place in the bay of Monaco yesterday on a 52m yacht called Tommy. You might spot them in Monte Carlo and other places along the coast over the next few days.
Mobius is scheduled for release in 2013.