Traditional events, parties and activities.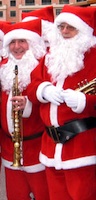 Some find organizing Christmas stressful, and we aim to help those that are feeling the strain with our annual handy list of Christmas events. There are seasonal workshops, festive parties and the Monaco Christmas Village, as well as traditional concerts and religious services.
Check back regularly for updates.
Families, kids and teens
24 Nov
-
Monaco Christmas Lights
6 Dec
-
Monaco Christmas Village
15 Dec
-
Kids Nite
16 Dec
-
Noel de Frankie
Music and shows
2 Dec
-
Virtuosi Children Christmas Concert 2017
5 Dec
-
Noels Baroques: T'Amo Mia Vita
7 Dec
-
Noels Baroques: Promenade dans lAllemagne Baroque
17 Dec
-
OPMC: Concert de Noel
Parties and food
30 Nov
-
CREM pre-Christmas party
4 Dec
-
CREM atelier: decoration - la table de noel
7 Dec
-
InterNations Monaco Christmas networking
7 Dec
-
Monte Carlo Wine and Business Club gala dinner
8 Dec
-
Vivanova Christmas party
12 Dec
-
MonacoUSA O Tannenbaum Christmas
16 Dec
-
Bal de Noel
Sports and exercise
16 Dec
-
Bain de Noel de Monaco
17 Dec
-
U Giru de Natale
Religious observances and traditions
8 Dec
-
Chemin des Creches
17 Dec
-
Children's Nativity Play
17 Dec
-
Christmas Carol Service
24 Dec
-
Children's Christingle Service
24 Dec
-
Anglican Midnight Mass
25 Dec
-
Family Christmas Communion
Shopping and gift ideas
24 Nov
-
ISM Christmas market
2 Dec
-
Ecumenical Kermesse
6-7 Dec
-
Mission Enfance Braderie de Noel
14 Dec
-
Action Innocence Fir Tree Auction