Refurbished indoor market reserved for food and drink stalls.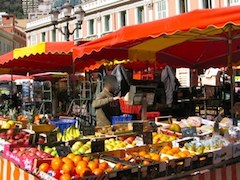 Condamine Market at Place d'Armes is expected to be fully operational by mid-May, with new market opening hours:
Mon-Sat
7:00-14:30
16:30-19:30
Sun
7:00-14:00
In addition, 3 zones have been created with plenty of seats and heating in winter so that shoppers can consume their market purchases on the spot.
With Government finance of 1.8 m euros and a further 550,000 euros from the Mairie, work started at the site on 23rd January to improve the infrastructure for the 20 food and drink stall holders that are now taking up residence:
Monegasque specialities and rotisserie, A Roca
Wioska Butcher
Corsican products, M. Antonini
Mattucca Butcher
Mattucca Epicerie
Cheeses, Monaco Ceneri
Dominique Butcher
Bar le Zinc
Monegasque specialities, Chez Roger
Costa Bakery
Sushi, Monaco Asian Market
Fishmonger, Etablissements Rinaldi
Fruit and soup bar
Fresh pasta, La Maison des Pates
Epicerie Fine, F Tibs
Maison Mullot Bakery
Fresh pasta and cold meats, Truffle Gourmet
South-West products, Produits du Sud Ouest
Bakery, M. Serge Thomas
Ice-cream cafe and sandwiches (foccaceria), Le Comptoir
In addition to the market stalls, there are several bars and restaurants around the square, including the new
Ostrega de Munegu oyster bar
. Place d'Armes looks set to re-establish itself as the heart of the Principality.