Exclusive invitation to CREM members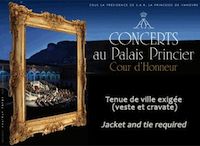 Members of the Club des Residents Etrangers de Monaco (CREM) are being given the opportunity to take part in a draw to win a free ticket to a dress rehearsal for one of two concerts in the Prince's Palace:
22 Jul, 20:00, Bloch and Dvorak
29 Jul, 20:00, Rachmaninov
The concerts take place outdoors and are part of the Monte Carlo Philharmonic Orchestra summer season.
Tickets are limited to 9 for each evening and are available for fully paid-up members, who should register with CREM before 15 July for one of the dates. A draw takes place the following afternoon, 16 July, at 16:00 to choose the lucky winners.
If you're not a member of CREM and you'd like to attend one of the concerts, we've listed the program below. Click through for more information.
Sunday, 19
th
Jul
-
Borodin and Tchaikovsky
Thursday, 23
rd
Jul
-
Bloch, Dvorak
Sunday, 26
th
Jul
-
Faure, Bruch, Ravel
Thursday, 30
th
Jul
-
Rachmaninov
Sunday, 2
nd
Aug
-
Liszt, Grieg, Gershwin
Thursday, 6
th
Aug
-
Khachaturian and Tchaikovsky