Food for the soul and food for the body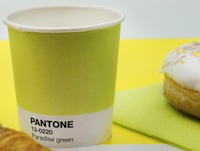 Photo Source:
Pantone Cafe website
After cultivating your taste this summer at the Grimaldi Forum's art exhibition, you'll be glad to know you don't need to go too far to satisfy the cravings of your taste buds.
A temporary cafe has been erected on the venue's esplanade, open from 14 July to 23 August, serving drinks and snacks all day, and Italian artisanal ice-cream when you need a treat.
Pantone Cafe is fitted with a pergola to shelter you from the heat of the sunshine, and if the weather turns inclement, you can relax with your refreshments in the Grimaldi Forum's glass-roofed entrance hall.
Its name, Pantone, refers to a proprietary colour matching system and is a nod to the Grimaldi Forum's colourful summer art exhibitions.
daily, 10:00-20:00
Thursdays late opening until 22:00
Pantone Cafe is a Monaco Restaurant Group (MRG) establishment. For more information visit the venue website at:
Pantone Cafe
.