Halloween parties and clubbing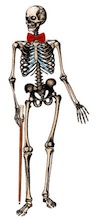 Don't be a scaredy-cat on 31st October. Take a walk around the streets and if you see zombies or vampires, follow them closely. They're probably on their way to one of the many Halloween parties taking place in Monaco.
Here's our "at a glance" guide to the parties advertised as of 26th October. Check back over the next five days as more venues announce their events. Click through for more information.
29 Oct
-
Halloween @ Buddha Bar
30 Oct
-
OPMC concert famille: Halloween
31 Oct
-
Halloween @ Parc Princesse Antoinette
31 Oct
-
Halloween @ Stars n Bars
31 Oct
-
Asylum Jack
31 Oct
-
Halloween @ Rascasse
31 Oct
-
Halloween Party @ Flashmans
31 Oct
-
Halloween Ball and Demolition Party