Live music evenings.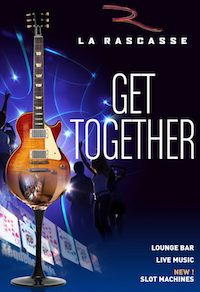 Photo source:
Rascasse Facebook page
Rascasse has a full program of music planned for July. Open 7 days a week from 19:00 to 5:00, there are regular acts at the beginning of the week, and guest bands at weekends. Here's our round-up of what's happening, and for more information and reservations contact the venue on +377 98 06 16 16.
every Monday, 18:00, Beso Latino evening with Eduardo Santos
every Sunday, 19:00, Mister Fat Cat
Sundays and Mondays, 22:00, DJ Henrik
Tuesdays, 3
rd
Jul → 31
st
Jul (5 performances)
-
Waste
Wednesdays, 4
th
Jul → 25
th
Jul (4 performances)
-
After Beach
Thursday, 5
th
Jul
-
Spoon
Friday, 6
th
Jul
-
4 Soul and Cabine 13
Saturday, 7
th
Jul
-
4 Soul and DJ Niko Larsons
Thursday, 12
th
Jul
-
Caligagan
Friday, 13
th
Jul
-
Cabine 13 and Caligagan
Saturday, 14
th
Jul
-
Merry Mood and Caligagan
Thursday, 19
th
Jul
-
Karma
Friday, 20
th
Jul → 21
st
Jul (2 performances)
-
Baby Cougar and Waste
Thursday, 26
th
Jul
-
4 Soul
Friday, 27
th
Jul
-
4 Soul and Reset
Saturday, 28
th
Jul
-
Cadillac and Reset