Rossini, Bellini, and Britten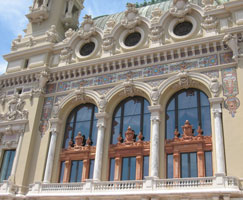 Monte Carlo Opera raises the curtain on its 2017-2018 season with a gala evening on 21 September.
Rossini's La Cenerentola, based on Charles Perrault's version of the Cinderella story, has been chosen for the 19th November Monegasque National Day gala performance, with Cecilia Bartoli in the lead role. The Italian mezzo-soprano is artistic director of the baroque music ensemble Les Musiciens du Prince, founded in Monaco in 2016.
The Vienna Philharmonic Orchestra is visiting in January, Italian baritone Leo Nucci is performing in March, and this season's opera for a young audience is Faust.
Our overview of the 2017-2018 Monte Carlo Opera season is posted below and you can click through for more details. Tickets can be purchased by phoning +377 98 06 28 28, or bought direct from the Monte Carlo Casino ticket office. For more information visit the organizer's website at: Opera Monte Carlo.
21 Sep
-
Opera: Gala d'ouverture 2017-18
23 Sep
-
Opera: Recital Academie Lyrique
29 Oct
-
Opera: La Cenerentola
31 Oct
-
Opera: La Cenerentola gala
2 Nov
-
Opera: La Cenerentola
4 Nov
-
Opera: La Cenerentola
8 Nov
-
Cine concert: Faust (1926)
19 Nov
-
Opera: Adriana Lecouvreur gala
26 Nov
-
Opera: Adriana Lecouvreur
3 Dec
-
Opera: I Puritani
6 Dec
-
Opera: I Puritani
12 Jan
-
Orchestre Philharmonique de Vienne
22 Jan
-
Opera: Les Contes d'Hoffmann gala
25 Jan
-
Opera: Les Contes d'Hoffmann
28 Jan
-
Opera: Les Contes d'Hoffmann
31 Jan
-
Opera: Les Contes d'Hoffmann
20 Feb
-
Opera: Peter Grimes gala
23 Feb
-
Opera: Peter Grimes
25 Feb
-
Opera: Peter Grimes
28 Feb
-
Opera: Peter Grimes
11 Mar
-
Leo Nucci
23 Mar
-
Opera: Faust gala
25 Mar
-
Opera: Faust
27 Mar
-
Opera: Faust
29 Mar
-
Opera: Faust for a young audience
19 Apr
-
Opera: I Masnadieri gala
22 Apr
-
Opera: I Masnadieri
24 Apr
-
Opera: I Masnadieri