Stutzmann, Bartoli, Jaroussky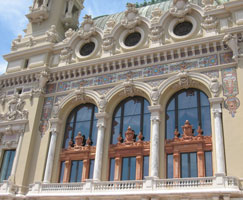 Monte Carlo Opera's concert and stage productions for the coming 2015-2016 season.
The season officially opens with the 19th November Monegasque National Day gala performance, this year of Puccini's Tosca. However a public performance of the opera is scheduled a couple of days earlier, and before that, a concert with Nathalie Stutzmann.
French contralto Nathalie Stutzmann is one of our highlights this year. She is performing tracks from her recent album Heroes From the Shadows, and is supported by her own musicians. In addition, we're particularly looking forward to the concert performance of Handel's Alcina, with French countertenor Philippe Jaroussky singing the part of heroic knight Ruggiero.
Finally, Cecila Bartoli returns to the Principality to sing the lead role in the opera Norma. The Italian mezzo-soprano has agreed to work with Monte Carlo Opera for six years. The initial output of this partnership is the creation of a baroque music ensemble called Les Musiciens du Prince, which is expected to make its first performance in spring 2016 and will accompany Bartoli on some of her tours.
Our overview of the 2015-2016 Monte Carlo Opera season posted below and you can click through for more details. Tickets can be purchased by phoning +377 98 06 28 28, or bought direct from the Monte Carlo Casino ticket office. For more information visit the organizer's website at: Opera Monte Carlo.
11 Nov 2015
-
Nathalie Stutzmann
16 Nov 2015
-
Puccini: Tosca
19 Nov 2015
-
Puccini: Tosca
22 Nov 2015
-
Puccini: Tosca
18 Dec 2015
-
Vargas, Gheorghiu, Tezier
21 Jan 2016
-
La Wally
24 Jan 2016
-
La Wally
27 Jan 2016
-
La Wally
30 Jan 2016
-
La Wally
4 Feb 2016
-
Alcina
19 Feb 2016
-
Norma
21 Feb 2016
-
Norma
23 Feb 2016
-
Norma
25 Feb 2016
-
Norma
18 Mar 2016
-
Le Joueur / The Gambler
20 Mar 2016
-
Le Joueur / The Gambler
22 Mar 2016
-
Le Joueur / The Gambler
25 Mar 2016
-
Le Joueur / The Gambler
3 Apr 2016
-
Juan Diego Florez
11 Apr 2016
-
Renee Fleming
22 Apr 2016
-
Attila
24 Apr 2016
-
Attila
27 Apr 2016
-
Attila
29 Apr 2016
-
Attila