Annual series of concerts and shows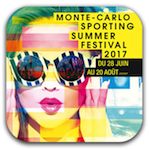 From 28 June to 20 August, Monte Carlo SBM organizes concerts and shows in the Principality.
The highlights for us this year are [-], but there are plenty more international stars and musical shows to suit younger fans and Italian and French audiences.
With a hugely successful career, [-] performance is the most expensive at 1000 euros, which includes dinner beforehand, but excludes drinks. [-] can be seen for just 60 euros, performance only. Click through the links below for more information about each show.
For more information phone +377 98 06 41 59, email ticketoffice[at]sbm.mc and visit the event website at: Monte Carlo Live: Sporting Summer Festival programmation.
Smart dress is required at the dinner shows, where gentlemen should wear a jacket, and tuxedos are mandatory for gala evenings. Children under 7 are not admitted, and older children must be accompanied by their parents.
Overview of 2017 program:
28 Jun
-
Deep Purple, Pretenders, Johnny Gallagher & the Boxtie Band
3 Jul
-
Scott Bradlee's Postmodern Jukebox
4 Jul
-
Scott Bradlee's Postmodern Jukebox
7 Jul
-
Veronique Sanson
8 Jul
-
Stars 80s: Fight Aids Monaco Night
15 Jul
-
Macklemore and Ryan Lewis
24 Jul
-
Joss Stone
25 Jul
-
Pink Martini, Imelda May
26 Jul
-
Depardieu chante Barbara
27 Jul
-
Depardieu chante Barbara
28 Jul
-
Christine and the Queens: Monaco Red Cross Gala
29 Jul
-
George Benson
1 Aug
-
Zucchero
3 Aug
-
L.E.J., Anna Kova
4 Aug
-
Andrea Bocelli
5 Aug
-
Kool and the Gang
7 Aug
-
Eros Ramazzotti
9 Aug
-
Patricia Kaas
10 Aug
-
Roger Hodgson of Supertramp
11 Aug
-
Majid alMohandis: Oriental Night 2017
12 Aug
-
Paolo Conte
13 Aug
-
Grigory Leps
14 Aug
-
Michael Bolton
15 Aug
-
Renato Zero
16 Aug
-
Legally Blonde the Musical
17 Aug
-
Legally Blonde the Musical
18 Aug
-
Legally Blonde the Musical
19 Aug
-
Legally Blonde the Musical
20 Aug
-
Legally Blonde the Musical