Flavio Briatore's Billionaire Sunset Lounge opens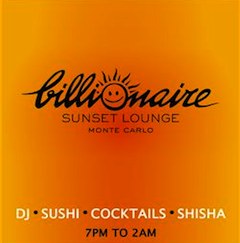 The Fairmont Monte Carlo recently announced the launch of Flavio Briatore's Billionnaire Sunset Lounge at its rooftop swimming pool. With panoramic views over the sea and Monte Carlo Casino, it's the latest development in Briatore's Billionaire brand. Serving cocktails, including the exclusive "Billioniaire Bomb", sushi, and other tasty nibbles, it's already been booked for the June InterNations networking event.
Over a year ago, the Italian settled in Monte Carlo with his wife and son, intending to grow his Billionaire brand, which includes the Billionaire Club hosted by the Fairmont during Grand Prix. Briatore has said that he wants to establish a permanent, year-round party venue in the Principality.
Earlier this year in May, the businessman's restaurant Cipriani Monte Carlo opened next door to the foreign residents' club CREM. Located in the heart of Monaco, the exclusive eatery places Cipriani's signature brown, leather chairs within the ambiance of a luxury yacht. For the billionaires of Monaco, there's an area upstairs with private bar and sea-view terrace, strictly for members of Club Cipriani Monte Carlo.
Billionaire Sunset Lounge, every evening during summer, 19:00 to 2:00
Cipriani Monte Carlo, daily, 19:00 to midnight, phone +377 93 25 42 50, email infomc[at]cipriani.com.