A delicious way to help out.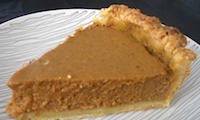 It's coming up to the holiday season for our American friends, heralded by Thanksgiving on the 4th Thursday in November. Jennifer Barnaby of Cakes for a Cause is hoping to help homesick Americans and Canadians (who have already celebrated on the 2nd Monday in October) and raise money for charity at the same time. She's making 20 pumpkin pies for Thanksgiving and selling them to people who miss the traditional festive treats. If you'd like one of them, visit the website for more information: Voulez-vous pumpkin pie.
Money raised will benefit Monaco Aide et Presence and Nepal Youth Opportunity Fund.
If you want more than just pumpkin pie, Fusion is hosting a buffet with all the trimmings. More details from our Monaco USA Thanksgiving 2011 event listing.