Smart set sips Monaco Sprtizs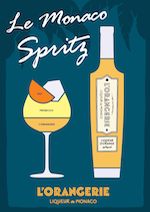 Members of Bradley Mitton's Club Vivanova gathered last night for an authentic taste of Monaco at L'Orangerie. Surrounded by polished copper stills and shiny stainless steel drums, the smart set sipped Monaco Spritzs, mixed by owner Philip Culazzo. The drinks use a good measure of his orange liqueur poured over ice, topped up with prosecco and garnished with orange peel.
Read the full review on our blog: L'Orangerie's elixir of Monaco.