Passionate prospects in Monaco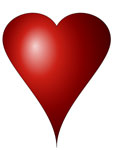 Call me the Scrooge of Valentine's Day if you want, but I find the whole business somewhat ... commercial. You don't need to wait for 14 Feb to arrive before treating your sweetheart to a romantic meal. In fact, I find that a regular show of affection and ardor is more beneficial than an annual display of devotion.
Still, if you want to impress your lover with a Valentine's meal or gift, here are some of the options being promoted in Monte Carlo. All menus are served on 14 Feb, unless otherwise stated.
Valentine menus
13 Feb at Before, dinner a la carte, with live music by La Diva Chic
13 Feb at Blue Bay Monte Carlo Bay, 88 euros 4-course menu or 108 euros 5-course menu
Stars n Bars, 30 euros for 3 courses
Casino Cafe de Paris, 50 euros, 3-course dinner incl. glass rose champagne and 10 euros credit in slot machines, +377 98 06 76 27
Huit et Demi, 58 euros for 3 courses
Castelroc, 59 euros, Valentine menu, 5 courses excl. drink
Amici Miei, 60 euros, Valentine menu, apero, hors d'oeuvres, 3 courses, coffee, +377 92 05 92 14
Cafe de Paris, 85 euros lovebirds' menu, +377 98 06 36 66
La Marée, 110 euros, 3-course menu, choice of starter and main dish, +377 97 97 80 00
Blue Bay at Monte Carlo Bay, 145 euros St Valentine menu incl. glass of champagne, +377 98 06 36 66
Salle Empire at Hotel de Paris, 165 euros menu, +377 98 06 36 66
Salle Belle Epoque at Hermitage, 170 euros menu incl. half bottle rose champagne, +377 98 06 36 66
Zelo's, Valentine party, 20:00 dinner à la carte, 24:00 DJs Peter Stone, Edoardo Loconsole, Solly Smith
Vin et Poisson, phone for information
Valentine aperos
Mozza, St Valentine cocktail called MozzAmore, vodka, granadine, creme fraiche, ginger, ginger beer, chocolate, chili, strawberry sweets
Crystal Bar at Hermitage, 119 euros romantic cocktail for two, includes two glasses of champagne, 30g Ossetra caviar and condiments, +377 98 06 36 66
Valentine sleepovers
Columbus Hotel, 12-14 Feb, 189 euros per night, deluxe room with breakfast buffet, welcome half bottle of champagne, +377 92 05 92 22, resa[at]columbus.mc
Valentine gifts