Monaco's cool beach bar.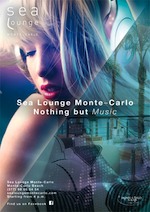 On Wednesday 16th May, Sea Lounge at the Monte Carlo Beach opens for the 2012 summer season. Through to 1st September, you can relax by the sea, sip a cocktail and prepare for a night partying in Jimmy'z. Open from 16:00 to 1:00, there are several themed parties planned throughout summer:

Sunday, 27th May
- Warm Up Evening 2012
Friday, 22nd Jun
- Mid Sommar (sic) Party
Wednesday, 4th Jul
- Be American
Saturday, 14th Jul
- Disco Fever
Friday, 27th Jul
- Welcome to Ibiza
Saturday, 11th Aug
- Royal Bar Moscow
Tuesday, 14th Aug
- Ice White Night
Saturday, 1st Sep
- Closing party

More information and reservations on +377 98 06 54 54, or visit the venue website: Sea Lounge Monte Carlo.