Program of winter concerts starts December 2011.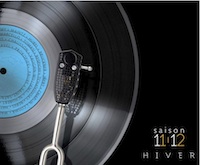 Monte Carlo Philharmonic Orchestra's (OPMC) repertory for winter has a travel theme, taking in a Spanish Symphony, French Nonets and an Italian Voyage. With Mahler's 2nd Symphony opening the winter program on Sunday, the OPMC plays us into 2012 with a variety of classical music for all tastes and ages.
Lunchtime concerts (Midi Musical) are 8 euros, performances for young people (a la Rencontre du Jeune Public) are 4 euros. Numbered seats at the Auditorium Rainier III, Salle Garnier and Grimaldi Forum range from 16 to 32 euros, around half price for kids. Discounts for groups of 10 or more.
You can buy your tickets online, with 10% discount from Monte Carlo Philharmonic Orchestra or Monaco Spectacle. Alternatively, from the Casino atrium box office in person, phone +377 98 06 28 28.
Winter Concerts (check back for our spring listing)
4 Dec 2011
-
Mahler's Symphony no. 2
11 Dec 2011
-
Spanish Symphony
18 Dec 2011
-
Sparkling Christmas concert
8 Jan 2012
-
Manfred
11 Jan 2012
-
French Nonets
29 Jan 2012
-
An Idyll
29 Jan 2012
-
An Idyll
1 Feb 2012
-
Les fables de la Fontaine contees...en musique
5 Feb 2012
-
The Creation of the World
15 Feb 2012
-
An Italian voyage
26 Feb 2012
-
Noble and Sentimental Waltzes