Take the coastal service to your favourite beach.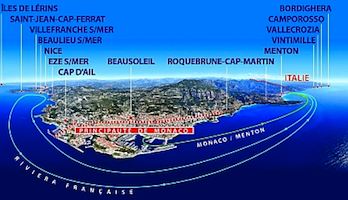 After introducing his Monaco taxi boat (bateau taxi) in summer 2010, Pierre Brezzo has changed his offering slightly for this season. The scheduled service to local beaches has been dropped in favour of pre-booking, but the prices remain similar. There are also two daily 45 minute boat trips to see Monaco from the sea, leaving the port at 2:30 and 3:30 (reservations on +377 92 16 15 15).
The taxi boat operates between Menton and Saint Laurent du Var, with prices per person ranging from 15 euros for the shortest journey to 100 euros for the full distance. If you're traveling from Monaco to Roquebrune Cap Martin or Plage Mala you can book the taxi for yourself only at 20 euros, but outside this zone you'll need an extra person. Hopping between ports, hotels and the beach within Monaco costs 15 euros.
There's no change to the number of passengers the taxi can hold, and with a maximum of 12 you can still hire it at a minimum of 90 euros per hour to ferry you around. If you're tempted, phone +33 6 80 86 00 21 to book your taxi boat.
For more information visit the taxi boat website here: Monaco Riviera Navigation.
You can see the 2011 tariffs here: coastal service and tariffs.